Excel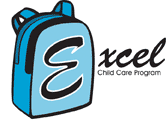 The EXCEL program is a recreational program offered by the Halifax Regional School Board as an option to parents for their children in the times before school and/or following afternoon dismissal. Currently operating from within 62 elementary schools EXCEL provides our participants with active play opportunities that promote physical literacy and positive social interactions with others from within a safe and fun environment.
As a registered 'High Five' organization EXCEL has incorporated the High Five principles of healthy child development into our daily programming. The principles include: a Caring Adult; the opportunity to make Friends; the opportunity to Play; the opportunity to Master Skills and the opportunity to Participate.
To learn more about our EXCEL Before & After programs, please click HERE.